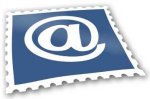 Today is a quick tip – use your domain for your email address. Most of us have email accounts with free services like Yahoo or Gmail. But if you are using susieq@yahoo.com instead of susieq@thisiswhatido.com, you are missing out on opportunities to get people to your website.
I don't know about you, but I'm nosy and when I see an email with a domain name that I don't know, I tend to go check it out. And there just seems to be something unprofessional about a business card that says @yahoo.com. You have the domain name and the website, why not show it off.
Most website hosts provide email accounts for your domain. If yours does not, then it's time to look for a new provider (hint, hint).
I understand that you like having your email all in one place. I do too. There are two easy fixes. The quickest is to have your domain email simply forward to your free service email. The best fix though is to use your free service email to check and send your domain email. That way you can receive your email and then send out replies using your domain.
Click here to find out how to do this in Gmail. For Yahoo users, click here. Hotmail users click here. If you use another service, simply search their help section for "check other email accounts" or something like that.
Questions? Let us know!