Website Design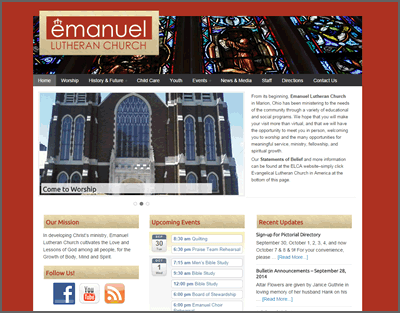 Neighborhood Image specializes in building high-quality websites for a variety of businesses and individuals. We have worked with clients ranging from hospitals to bait shops and from pig farms to churches, and on any and every range of budget. Your website is always custom designed, never a cookie-cutter template – your needs are unique to you and we believe your site should be unique as well.
All of our sites are built with a content management system in place. We understand that customers want more control over their content – whether its a blog, a photo gallery, or a more robust content management system, we have several options available to meet your needs. And if you'd rather have us do the work that's okay, too! We offer options on website maintenance so you can take on as much or as little work as you feel comfortable with!
Website Hosting & Domain Registration
If you're more experienced with website design but are looking for a server to call home, we're your people! We offer several affordable hosting packages and, best of all, no waiting on hold for tech support! If you have an issue, just give us a call – we're always more than happy to help you out.
Website Maintenance
Sometimes you already have a website you love, you just need help with keeping it up to date. Whether you're lacking time to do it yourself or you just don't want to take on a new skill, we're here to help. We offer affordable hourly rates for piecemeal work and discounted monthly maintenance packages if you're looking for long-term help.
Online Advertising & Banner Ads
Looking to advertise locally online? We have the perfect place! We offer affordable online advertising on MarionOnline.com for a variety of budgets. Banner ad design is always included. For more information on advertising on Marion Online, click here.
Our Process
We understand that starting or redesigning a website can be stressful and confusing – here's our process and what we do to make things as easy as possible for everyone involved:

We meet with you to discuss what your goals are for your new site – what you'd like it to look like, how you'd like to use it as part of your marketing, and more. This gives a good idea of which direction we can go with the design and implementation of your site. 

After our planning meeting we work on coming up with a design that implements your ideas. Once we have something we think you'll like, we'll send it to you for you to look over – from here we work closely with you to tweak it as needed to make sure it's what you're looking for.

Once the design is approved we start working on actually building your website. We take your new design and mix it up with back end coding to take your site from just an idea to reality. And with a little back-and-forth between us and you we get all of your content entered and pages built.

After everything is done we give you a chance to go through it one last time to make last minute tweaks. Once we get the OK, we do a little bit of file moving on the server and launch your new site. 
After your new site is online we'll set up an appointment to train you on the new software (don't worry, it takes less than an hour!). And if maintaining the site yourself sounds like the last thing you want to do, or you just don't have the time, we offer affordable rates on website maintenance.
Ready To Take The Next Step?

If you're ready for an affordable, professional website – contact us for a free consultation! We'd love to sit down and learn more about your needs and how we can give you an online presence that really works for you!