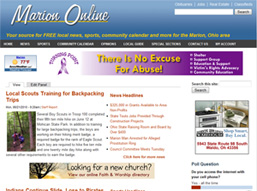 On June 1st, 2010 Neighborhood Image launched a brand new and improved MarionOnline.com to its readers.  The new site is a huge step forward for us and brings a lot more features as well as more potential for future development. We've brought our readers a more user-friendly interface, making it easier and faster to access content, as well as cleaning out a lot of the clutter that made the site hard to navigate. For our advertisers we've added in not only larger banner ads, but also more advertising options, offering advertising opportunities for any budget!
While nothing is forever, we plan to do several things now and into the future, including:
We won't put ads in the text of stories. These are the words in a story that appear linked and when you mouse-over them, a pop-up appears.
We will not compete with local businesses. If a local business advertises with us, then we will not show ads for competing online companies.
As much as we can, we will not show ads that take over your screen with pop-up graphics. Sometimes this is beyond our control, but we will make every effort to keep this frustrating form of advertising off of Marion Online.
Speaking of ads, we pledge to keep this an advertiser supported site. The main content of Marion Online, including news, sports, calendar, and obituaries will remain free for viewers. We also do not and will not charge for posting full-length obituaries.
We promise responsiveness and openness. As best as we can, we promise to respond to questions about why we do and/or don't do certain things. We hope this website reflects the best of what Marion has to offer. Your feedback will be used to guide our focus so that we provide you with the Marion Online that you want.
Sean and I would like to thank everyone for their support in the process of the changeover to the new format. We're really happy with the final product, and we've had so many great responses about it from our readers as well!  I'm excited about the change, and I can't wait to see where things go from here as we add new content and such to the site!