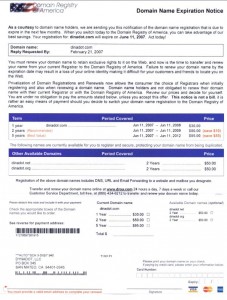 Just received today:  a letter from Domain Registry of America! They'd like kindly remind us that we have a few domain names set to expire within the next few months. How nice of them! (You can click on the image to the left for an example of what these letters look like)
This letter can be really deceiving if you don't pay close attention to what you're reading.  In the middle of the third paragraph is hidden the words "This notice is not a bill." I don't know about you, but it sure looks like they're trying to pass it off as one!
A little research turned up this lovely bit on the Domain Registry of America's (DROA) business practices courtsey of the FTC:
DROA is a re-seller of domain name registration services for a company called eNom, Inc. (eNom), an accredited registrar of Internet domain names. It allegedly conducts business by sending mass-marketed direct mail to U.S. consumers, soliciting them to transfer their domain name registrations from their current Internet domain name registrar to eNom. According to the FTC, DROA's mail solicitations to consumers appear to be renewal notices or invoices from the consumers' current registrars, advising them that their domain names are about to expire, and requesting payment for "renewal" of the domain name registration. The Commission contends that DROA has mailed millions of such "renewal" notices captioned "IMPORTANT NOTICE," to urge consumers to act quickly to avoid "Register Lock" or "loss of your online identity." The company further warns, according to the FTC, that if consumers "lose their domain name" it may be "impossible for you to get it back."
Not only are they scamming you into thinking you need to renew your domain name with their company… they're also charging you more for it, too! If you receive one of these letters in the mail, ignore it and trash it!
The full FTC press release on the company can be found here